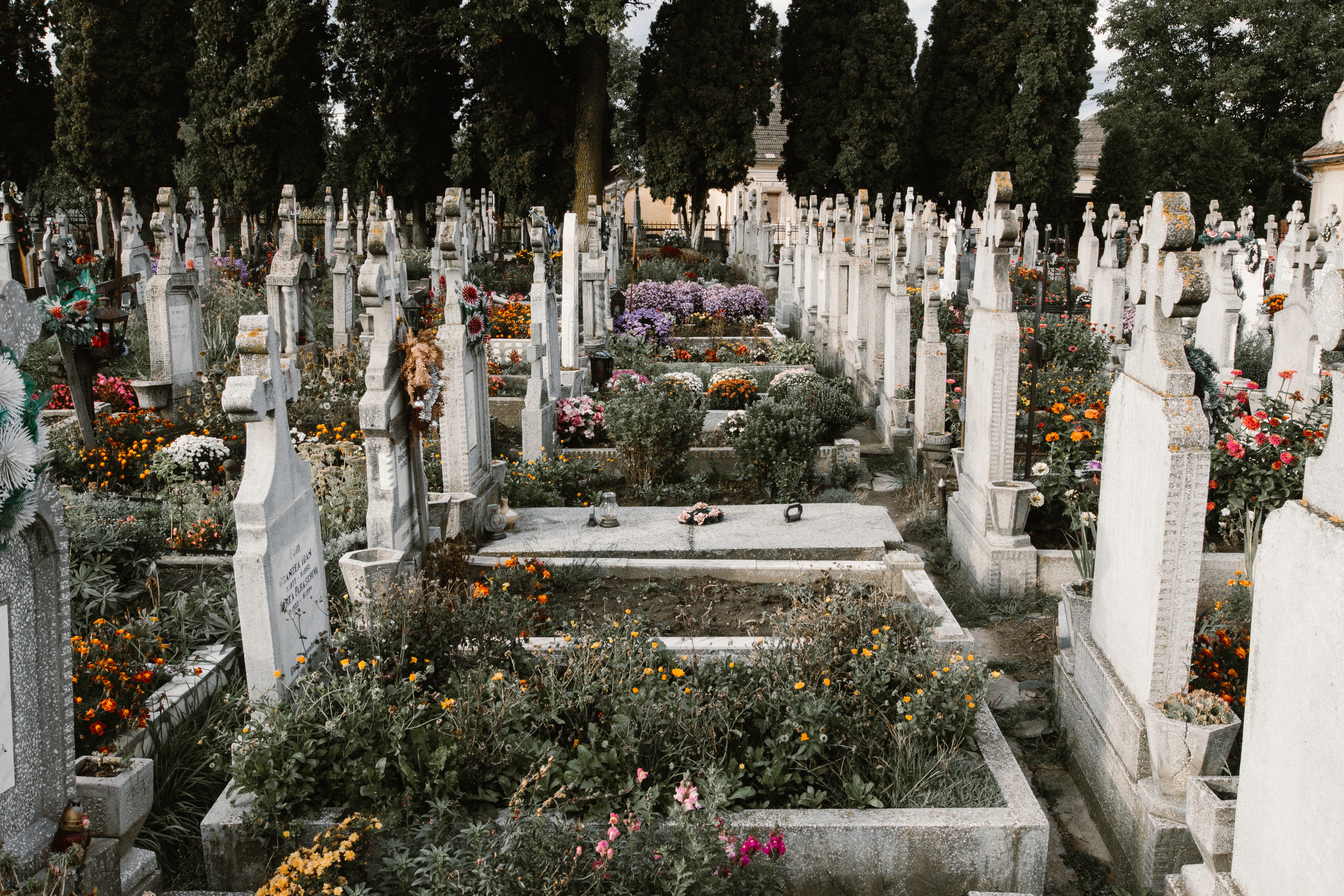 01 Sep

Choosing a Memorial for your Loved One

The passing of someone dear to you is always an upsetting time and choosing a memorial that befits their life and memory, in the midst of organising everything else, can seem daunting. We are here to guide you through the options available to you, simplifying the process so that you can focus on how best to commemorate your loved one.

Choosing a memorial can be a cathartic, healing process, as you reflect on the life of the person you have lost and how you will remember them in the years to come. It can be a good time to bring together family and friends, thinking about favourite memories and the life of your loved one, to decide together on a fitting tribute.
How to choose the right memorial?
There are a number of aspects to consider as you work through deciding on the different memorial elements. As well as personal choices of style and inscription, it is worth checking on any restrictions that the cemetery may have, such as size limitations and inscription guidelines.
Parting wishes
When you first start thinking about how to commemorate a person you've lost, it is useful to ascertain whether they left any requests themselves. They may have outlined their wishes in a funeral plan, or simply discussed this with someone close to them. This can give you clear direction moving forward and an image to work towards.
Sadly, we aren't always afforded such knowledge and we may not have any information to work with. If this is the case, try thinking back on their life, what they loved, their preferences, and some favourite memories to inspire and guide you through the process. When choosing a memorial, there is no right or wrong decision. Above all else, trust your instincts and choose what feels right for your loved one and your situation.
Companion Memorials
Many people choose to be laid to rest with those closest to them, often their husband or wife. The headstone chosen for the person who passes away first will need to be large enough to accommodate inscriptions for them both. If they are now joining their deceased partner, the style, shape, and size of the memorial may already be in place and you can add elements to suit what is already there. Before you carve additional inscriptions, you may want to renovate and restore the existing headstone to ensure it is in the best condition.
Cemetery, Churchyard, and Crematorium Restrictions
Whether your loved one is buried in a cemetery, churchyard, or crematorium, you will still be able to have a headstone. However, depending on the location there can be certain restrictions on size, material, and finish, that you will need to check before choosing your memorial design.
There are usually general guidelines for everyone, including inscription style as well as how long the ground should be left to settle before laying the headstone. Sometimes there are more specific regulations that you will need to check. For example, some churchyards do not permit polished materials.
Working out the cost
While this is often an uncomfortable subject, the cost of a headstone is nevertheless an essential topic that you need to be aware of from the outset. Memorial costs can vary significantly depending on what you choose. Before you decide on a memorial you love, work out the finances so that you only look at what you can afford. A good place to start would be referring to funeral plans or any savings that have been set aside. There are beautiful, touching memorials to suit all budgets and you will be able to achieve the perfect balance between cost and personalisation.
Choosing memorial style options
As unique as the individuals they commemorate, memorials come in many shapes, styles, and colours. The overall look, figuring out what you would like to say, and considering practical issues such as maintenance, will all be a part of the process as you work through creating your perfect memorial. Having an image in your mind of what you would like can be helpful, but if you simply don't know where to start, take it step by step.
The show area at HL Marks contains over fifty memorials and is a good place to look for some ideas. You can use any of our examples as a starting point, adapting a design to better reflect your loved one.

Choosing the right material
When deciding on the material it is important not only to consider how it will look but also cost and maintenance. Some of the most popular and hard-wearing materials are granite, marble, stone, and slate.
Granite is the most popular choice for headstones. A non-porous material, it provides unrivalled durability as well as a clean, classic aesthetic. It is a wise choice if you are laying your loved one to rest in an area surrounded by trees and foliage, as any acid from tree sap or fallen leaves will not damage the hard-wearing material. However, if you opt for a highly polished finished, it is worth considering that it will require regular cleaning.
Marble offers a softer, more delicate look and can make for a beautiful memorial site. Whilst still a durable material, it isn't quite as hard-wearing as granite and will require a little more upkeep to keep the headstone in good condition. If you are concerned about weathering, there are restoration services available to help maintain your memorial. At HL Marks, rather than using abrasive acids to clean the headstone, we use a technique which closes the pores in the marble, protecting its longevity.
Stone is often seen in traditional churchyards usually where regulations are in place regarding material choice. It can provide a softer, more rustic look that will gracefully weather
over the years, gradually settling into the landscape. There are a wide range of different stones to choose from, with some being much softer than others. This is something to talk to your stonemason about as the hardness of the stone can determine which font style and thickness will look best for your inscription.
Slate is a beautiful material that allows for highly intricate, precise carvings, ideal if you want a smaller headstone.  Slabs of slate often contain natural colour variations, with threads of white and muted patterns across the surface. This creates a wonderfully unique headstone, but ensuring it works well with your engraved inscription is something to consider. It is also exceptionally hard-wearing, faring well in harsh weather conditions and weathering beautifully over time.
Shape and Size
Budget and plot size are significant factors when choosing the size and shape of a headstone. Traditional full-length, kerbed headstones create an impressive, traditional memorial, but can cost significantly more. Upright headstones are more commonly used, and you can choose whether it has a peon, arched or square top. There are also flat or tablet headstones, which are suitable for smaller plots in crematoriums. At HL Marks we cut, shape, and polish the headstones in our workshop. You can work with your craftsman to create the exact shape you would like that will fit your plot perfectly.
Colour and Texture
Once you have decided the size, shape, and material of the memorial, there are now the final finishes to consider. A highly polished headstone looks classic, however it will require more frequent maintenance than a matte finish. Most materials are available in a wide range of colours but bear in mind that some churchyards may limit colour options, so it is worth checking beforehand. You can take inspiration from the setting where they will be laid to rest. When choosing a memorial, seeing what colours work best with the surroundings is a good place to start.
Creating a Personalised Inscription
The inscription is often the most significant and emotionally difficult part of the memorial to decide on. When you have decided on a material, speak to your stonemason for some advice on lettering, as some styles are better suited to certain materials. As experts in their trade, they can advise on what will look beautiful now and in years to come.
When deciding on the specific wording, you can keep it simple with name and date of birth and death or opt for something more elaborate. Many people choose a touching epitaph or religious quote, but you can also decide on a highly personalised saying or even a lyric. If there is a particular image you would like to include, your stonemason of choice can work with you to create a bespoke design inspired by your own drawings.
Bringing it all together
Choosing a memorial at such an emotional time can be a difficult task. By taking it one step at a time and reflecting with family and friends, the process of choosing a memorial can become a cathartic experience and a valued part of the grieving process. At HL Marks, we work with you every step of the way to create a beautiful, personal resting place. Here your loved one can peacefully lay to rest, and family and friends can come to not only mourn their loss but celebrate their life.