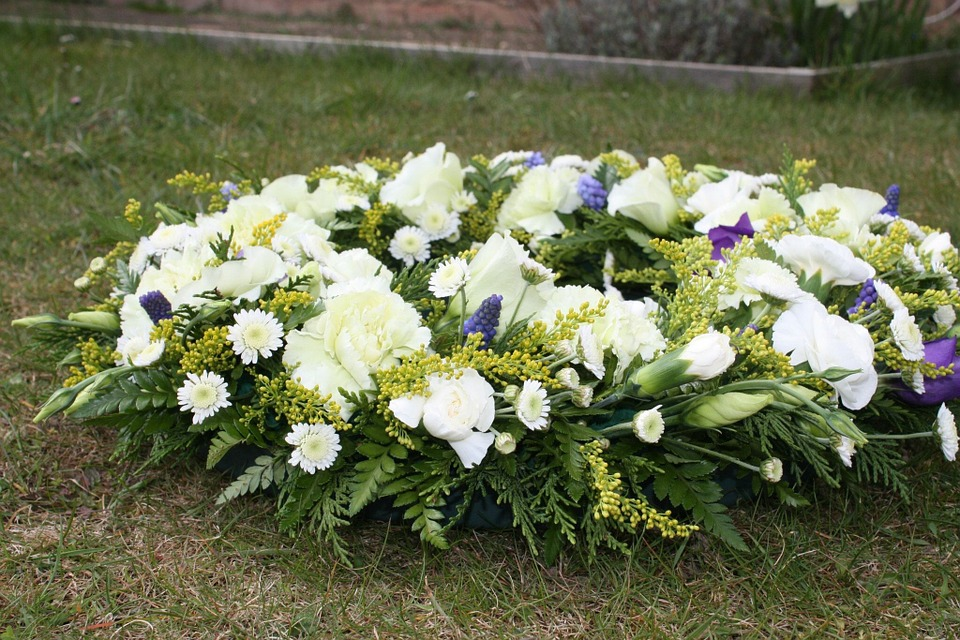 25 Jan

Expert Advice on Flower Arrangements For Your Loved One's Gravestone

Flowers are a traditional offering that many of us choose to leave at the final resting places of those special people who have passed on.

Of course, when it comes to selecting flowers for gravestones, there are lots of considerations to take into account. You will want to think about how to arrange, affix and maintain the blooms over time to ensure that your loved ones are well represented.

With that in mind, here are a few useful pieces of advice that will help you to honour the memory of an important person in your life when you buy flowers for headstones.
Importance Of Regular Flower Maintenance
Before we consider the aesthetic elements of flowers for graves, it is worth examining the practical aspects of maintaining the blooms you select.
Anyone who has purchased flowers for their own home will know that even if they are left in a vase, they will only have a limited shelf life. So if you buy fresh cut flowers to leave at the grave of a loved one, they will not survive for long unless you are particularly attentive.
Regular visits to keep up maintenance and replace plants that have withered and lost their lustre will be worth scheduling if you want to keep the flowers looking healthy and attractive.
If you cannot head to the grave site frequently enough to ensure this, there are two options. You could either choose a potted plant which will survive on its own and requires less maintenance or ensure that with each visit you bring fresh flowers and prepare to take away the previous bunches in anticipation that they will be past their best.
Artificial Flower Arrangements
You may not immediately be drawn to the idea of choosing outdoor artificial flowers for graves, but it is sensible to dispel any misconceptions that you might have about the quality and aesthetics of such products.
When it comes to artificial grave flowers, UK buyers have a lot of excellent options available. From vibrant and vivacious chrysanthemums to richly red roses and pink-tinged lilies, the array of flowers for gravestones which are made artificially and can survive indefinitely outdoors is vast.
Come rain or shine, snow showers or sleet, flower arrangement ideas that involve artificial blooms will be the hardiest option. That is not to say that they do not require any maintenance, as issues can arise over time and a particularly stiff wind could be enough to leave them looking dishevelled. However, if you are happy to accept the artificiality then such an arrangement could be a fitting tribute that looks good with every visit.
Best Way to Attach Flowers To A Headstone
Once you have selected the flowers you feel are most appropriate, the next question is how best to attach them to the headstone of your choice. Placing them precariously on top is unlikely to yield the best results and so it is necessary to take extra steps for total peace of mind and aesthetic consistency.
Many people choose a headstone saddle, which is essentially an extra platform which can be affixed to the top of the gravestone and act as an anchor point for any flower arrangement you decide to use.
The flowers themselves will be attached via something called a spray, which is a wire structure designed to secure the arrangement effectively while also ensuring that it is kept out of harm's way.
One additional reason to attach flowers to a headstone rather than resting them on the gravesite or leaving them anywhere else is that this will be a big help for the team whose job it is to maintain the entire cemetery. Different cemeteries have different rules and practices when it comes to maintenance, but with flowers attached to the top of the headstone, you will be doing your bit to assist them.
Surviving The Winter Period
The colder months of the year will prove a challenge for any amateur gardener at home, so it is no surprise to see that the same tribulations will impede anyone choosing flowers for gravestones over the winter.
The aforementioned advantages of outdoor artificial flowers for graves will come into play during this period, since cold snaps, early morning frosts and frequent downpours will not have much of an effect on man-made blooms.
Taking the artificial route is not for everyone, so if you are committed to using live flowers, your winter maintenance routine may become a little more intensive. It makes the most sense to choose plants that are tough enough to survive in the winter, or indeed those that actively embrace this time of year in their natural cycle.
Potted plants which do well at this time of year include heather, winter aconite and the common snowdrop. Of course, you can choose live or fresh cut flowers that are grown elsewhere and imported out of season; just be prepared to return to check on them regularly and bring replacements as required.
5 Flower Arrangement Ideas We Would Recommend
If you are not especially familiar with the art of flower arranging, it makes sense to seek expert advice when looking for the flower arrangement ideas that will be best suited to encapsulate your loved ones after they pass.
We have selected just 5 engaging arrangements to consider, across a spectrum of potential options. Of course, if you already know what to choose, or have your own additions in mind, customising arrangements is relatively straightforward.

White With Purple Accents
There is a lot to like about white flower arrangements, as during the spring, summer and autumn months they will stand out and catch the eye with ease. Accenting the arrangement with purple blooms is a great twist that further enhances the look without overwhelming it with colour.
White lilies are one of the most popular flowers for gravestones, although they are far from the only option. Petunias, roses, tulips and daffodils are just some of the options available and if your loved one had a favourite plant then it is surprisingly easy to represent them with this approach.
Bright Pastel Blooms
Although a visit to a grave is generally a solemn occasion, that does not mean that you need to select a flower arrangement that reflects the mood. If anything, you might want flowers to lift your spirits and remind you of the good times.
Pastel-hued flowers are an effective option in this instance, factoring in pinks, violets and purples to create an effect which is light, enlivening and carefree. The likes of ranunculus, lilacs, lisianthus and certain hydrangea variants will deliver the right mix.
Reds And Greens
Ask people to name their favourite flower and the rose will often top the list in the majority of cases. As a result, it is no surprise to see it feature prominently in many flower arrangement ideas for gravestones.
To really highlight the potency of a rose's vivid red colour, it makes sense to counterpoint it against the greenery. This will ensure that each head is picked out distinctly, rather than being lost in an overwhelming blaze of colour. Slip in sprigs of smaller white flowers to complete the look.

Springtime Yellows
There are lots of signs that spring has returned and the peeking of yellow flowers from the revived landscape is one of the most important and enlivening. This might not make them seem like an obvious choice for leaving on a grave, but the brightness is an excellent counterpoint to the muted tones of the headstone itself.
As with other colour types, there are many options available when it comes to arrangements involving yellow flowers. From small but perfectly formed primrose petals to the kinetic explosion of marigolds, the choice you face is extensive.

Shaped Arrangements
The colour and type of flowers you pick to leave by a loved one's grave will be important, but you can also make decisions about the form that the arrangement takes.
The traditional wreath is a widely chosen option, not only because it is attractive but also because it makes mounting straightforward.
Today you can choose arrangements which take on a huge number of other configurations, from shapes like hearts to letters that can be used to spell out anything you wish. These usually require a little more consistency in terms of colour to make them legible.
However, you decide to mark the memory of your dearly departed, using flowers for gravestones that are arranged to your specifications is a good way to achieve this.
Image Sources: White With Purple Accents, Springtime Yellows, Bright Pastel Blooms, Reds And Greens, Shaped Arrangements